Samsung 65 Inch Qled Tv
Screen Size: 65 Inch
Screen Type: Full HD LED, 4K, QLED
Connectivity: HDMI,USB 2.0,Wifi
Description
| | |
| --- | --- |
| Availability | In Stock |
| Brand | Samsung |
| TV Type | LCD |
| Curved Tv | No |
| Screen Size | 65" |
| Smart TV | Yes |
| 3D | No |
| 4K | Yes |
| 5K | No |
| Full HD | Yes |
| Wi-Fi | Yes |
| Camera | No |
| HDMI | Yes |
| USB | Yes |
| Refresh Rate | 60 Hz |
| Power Consumption | 90 Watts |
With 100% color volume and over a billion shades of color thanks to Samsung's proprietary Quantum dots, the colors on the Samsung QLED TV stay true even in the bright scenes.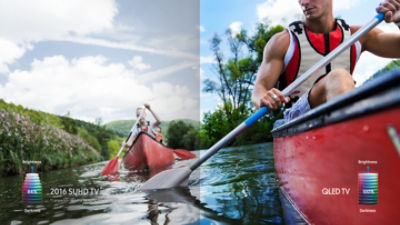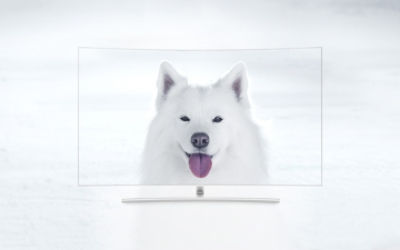 Q |4K HDR Elite delivers elite contrast and expanded color detail, even in the brightest and darkest areas in any scene.
Q |4K Elite Black unveils outstanding blacks, bringing new life to dark scenes.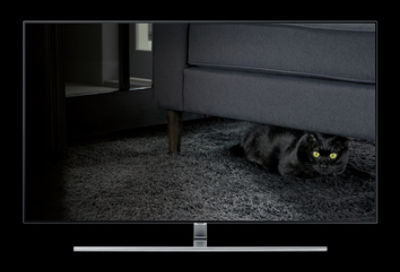 Enjoy smooth action without the blur. Motion Rate 240 brings sports and fast moving content to life.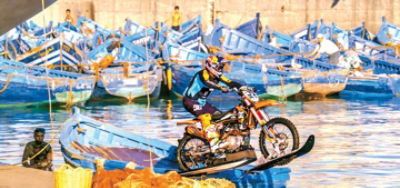 Cleanly connect your devices with Samsung's exclusive Invisible Connection™ optical wire.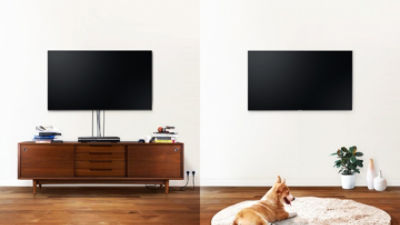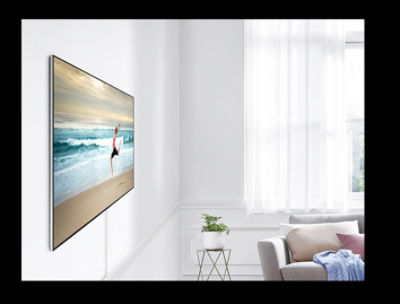 Hang your flat or curved TV snug to the wall with the Samsung No Gap Wall Mount™*.
*Sold separately. "No gap" refers to the rear-center of the panel and the wall; a small gap may occur if wall is not 100% flat or is constructed off angle to the floor, or if installation is done incorrectly.
The no-bezel design and clean back finish look gorgeous front to back, whether mounted on the wall or sitting on a stand.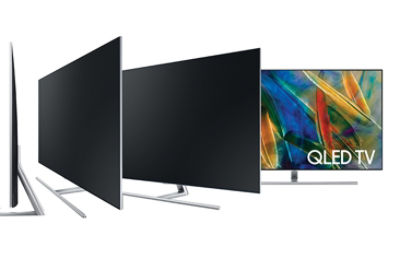 Access your favorite apps, content, and sports with Samsung Smart Hub®.*
No need to navigate. See everything in one place and find your favorite games and shows faster.
*

All devices must be on the same network and Internet connection is required.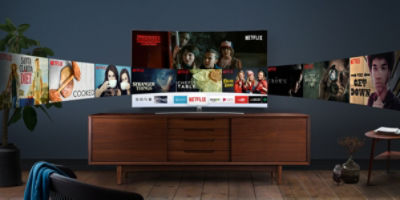 OneRemote automatically detects and controls your connected devices (satellite, cable, Blu-ray, soundbar) and content with no manual programming required**.
**Compatible devices only. All devices must be on the same network and internet connection is required.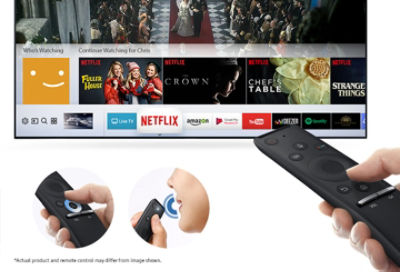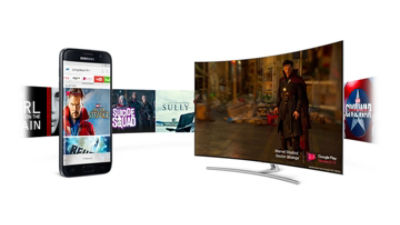 he Smart View app allows you to control your TV's smart menu and streaming services like Netflix as well as push content from your phone onto your TV.
With auto detection, the QLED TV recognizes your HDMI connected devices almost instantly. The input selection screen shows you what devices (satellite, Blu-Ray, Xbox) are connected in each HDMI input.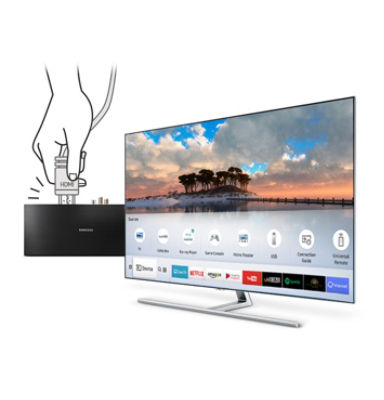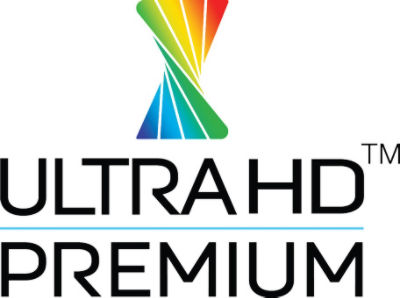 The UHDA's ULTRA HD PREMIUM logo identifies products and services that meet or exceed strict performance levels for resolution (4K — 4 times sharper than HD), high dynamic range (HDR — brilliant brights, deepest darks), and wide color spectrum (more lifelike colors), along with recommendations for immersive audio (multi-dimensional sound), among others.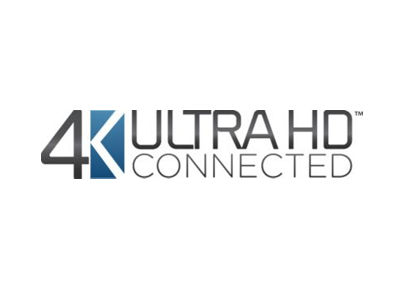 All Samsung 2017 4K UHD and QLED televisions comply with the CTA 4K Ultra High-Definition Connected definition requirements. The trade organization known as the Consumer Technology Association (CTA)® is considered an industry authority on engineering standards for consumer electronics in the United States. Visit www.cta.tech for more information.
SAMSUNG AUTHORIZED RESELLER BENEFITS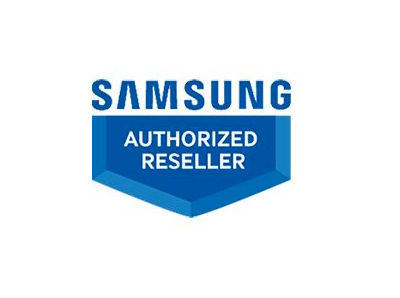 Purchasing Samsung products from an authorized reseller qualifies you for very important benefits.
Product
Series
Design
Type
Boundless 360 with Clean Back Finish
Stand Type (Color)
T-Type Real Stainless (Sterling Silver)
Video
Screen Size
64.5" Measured Diagonally
Resolution
3840 x 2160, 4K Ultra HD
Color
Q | 4K Color Drive Elite
HDR (High-Dynamic Range)
Q | 4K HDR Elite
Depth Enhancing Technology